Tell Them: What Great Fathers Tell Their Sons and Daughters, by Jim Ramos
200 days of conversation prompts for engaged fathers.
Want to disciple, engage with, and connect with your kids? Tell Them is the perfect place to start. 
This isn't your typical wimpy free download - this is a 209-page magnum resource to help you lead your kids well. Arena Fathers, we salute you!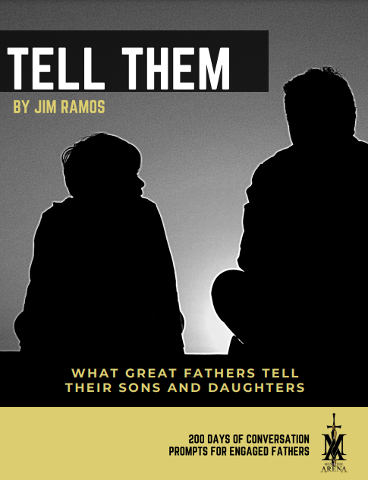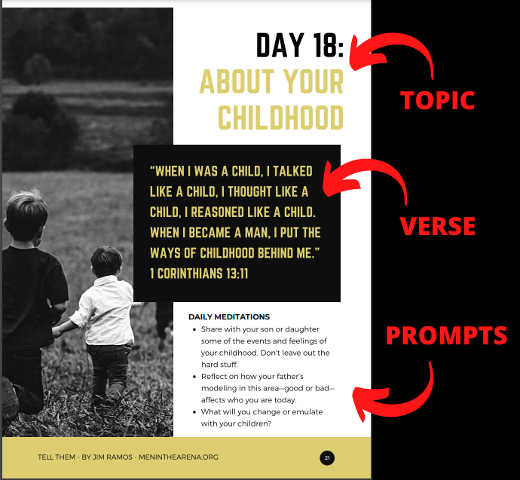 Jim Ramos is a bestselling author, speaker, and the founder of Men in the Arena, a non-profit Christian ministry focused on equipping men to honor God in the leadership of their family, church, and community.
He hosts the #1 ranked Spotify podcast for Christian men, the Men in the Arena Podcast, interviewing experts in Christian manhood and partnering with thought-leaders like John Eldredge, Gary Chapman, Gene Getz, Patrick Morley, and Emerson Eggerichs.
Ramos founded the 11,000-strong Men in the Arena Facebook Group and a global network of Men in the Arena virtual teams, where men support each other as they work to become their best version.
He has written numerous books, including the #1 Amazon Bestseller Strong Men Dangerous Times; The Field Guide: A Bathroom Book for Men; Tell Them: What Great Fathers Tell Their Sons and Daughters; and the five-book Strong Men Study Guide Series for small groups.
Jim lives in McMinnville, Oregon, with his wife Shanna. His goal is to live each day to its fullest with courageous abandon according to Jesus' promise in John 10:10. He loves to hunt with his adult sons, enjoy the fitness lifestyle, take tropical vacations with Shanna, and listen to men share their stories over a dark roasted Americano.
Connect with Jim on Instagram @themeninthearena and Twitter at @JimWRamos.