Tell Them: What Great Fathers Tell Their Sons and Daughters, by Jim Ramos
200 days of conversation prompts for engaged fathers.
Want to disciple, engage with, and connect with your kids? Tell Them is the perfect place to start. 
This isn't your typical wimpy free download - this is a 209-page magnum resource to help you lead your kids well. Arena Fathers, we salute you!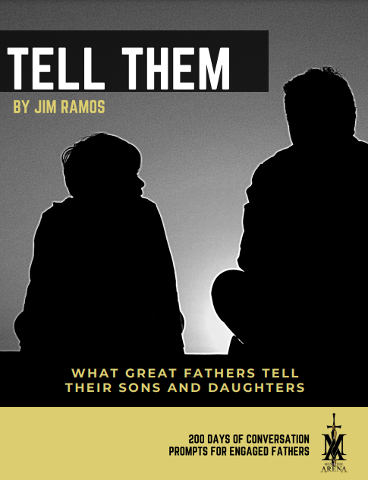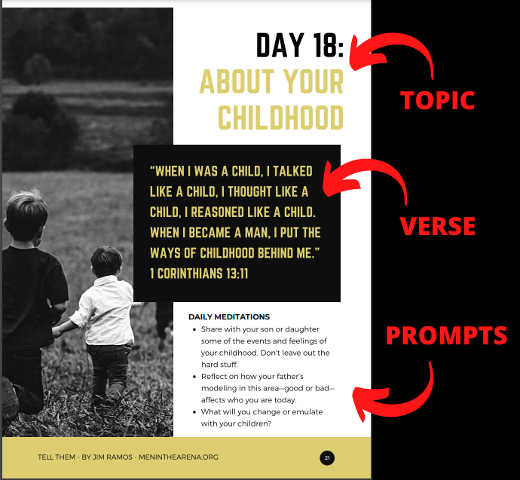 Use the form below to gain access to the download.
(If you don't see an input form below, try refreshing the page.)
Jim Ramos is a bestselling author, speaker, and the founder of Men in the Arena, a non-profit Christian ministry focused on equipping men to honor God in their leadership of their family, church, and community.
He hosts the weekly Men in the Arena Podcast, interviewing experts in the realm of manhood and partnering with thought-leaders like John Eldredge, Gary Chapman, Gene Getz, Patrick Morely, and Emerson Eggerich. 
Ramos founded the 11,000-strong Men in the Arena Facebook Group and a worldwide network of Men in the Arena virtual teams, where men support each other as they work to become their best version.
He and his wife Shanna live in McMinnville, Oregon. They have three adult sons and the cutest granddaughter you've ever seen. Jim loves the outdoors (especially hunting with sons James, Darby, and Colton), doing anything with Shanna, and listening to men share their story over a dark roasted Americano.
Connect with Jim on Instagram @themeninthearena and Twitter at @JimWRamos.